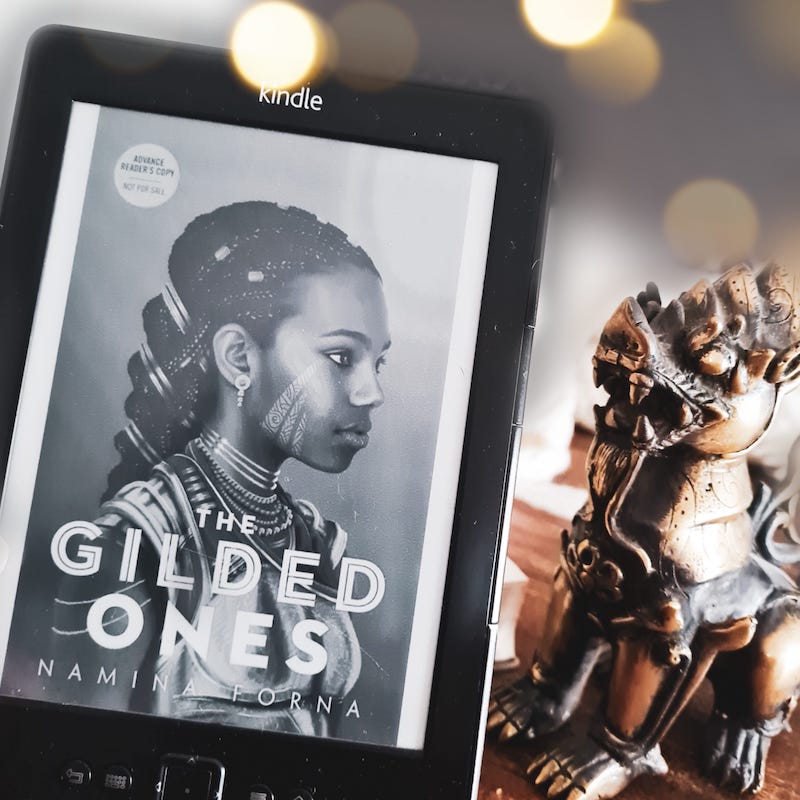 Review "The gilded ones" from Namina Forna
For 2021, I want to read more fantasy, science fiction and romance novels. So Let's start with "The gilded ones", the debut by author Namina Forna.
Synopsis of "The gilded ones"
Sixteen-year-old Deka lives in fear and anticipation of the blood ceremony that will determine whether she will become a member of her village. Already different from everyone else because of her unnatural intuition, Deka prays for red blood so she can finally feel like she belongs.

But on the day of the ceremony, her blood runs gold, the color of impurity–and Deka knows she will face a consequence worse than death.

Then a mysterious woman comes to her with a choice: stay in the village and submit to her fate, or leave to fight for the emperor in an army of girls just like her. They are called alaki–near-immortals with rare gifts. And they are the only ones who can stop the empire's greatest threat.

Knowing the dangers that lie ahead yet yearning for acceptance, Deka decides to leave the only life she's ever known. But as she journeys to the capital to train for the biggest battle of her life, she will discover that the great walled city holds many surprises. Nothing and no one are quite what they seem to be–not even Deka herself. (Source: Penguin Random House)
My personal opinion
I really liked the fact that the heroine in this novel is black and female. We definitely need more role models. Even though I love Harry Potter, I think it's good to have other representation of female and diverse heroines as well.
First of all, I was struck by this beautiful cover. It shows a portrait of Deka, the heroine of this story, in a warrior-like armor. Would this book be as exciting as "children of blood and bone"?
When I started reading, first came the foreword by the author. I've read it and was impressed. A fantasy novel which combined feminism and empowerment? Sounds like a sure thing to read.
The story itself started fast-paced. Deka is a classical underdog, looking different and being a female in a misogynic country. So of course she does not bleed pure on the day of the ritual. What follows was hard to digest for me. Brutal violence and each time more and more brutal. But in the course of the story, Deka gets stronger and stronger. She develops her physical strengths and her superpowers, but also grows on a personal level. For me, the training session was unfortunately a bit too short, and in the next scene, fast forward a few weeks later, Deka is already the perfect warrior. And a raid follows another. Death and more deaths.
This part was not my favorite part. I enjoyed more the fun and games part with Deka and her newly-found friends. Also the sowing up of Isa was very entertaining.
The end was for me a bit too easy, too many reveals and suddenly everything went so fast.
Who should read "The gilded ones"?
"The gilded ones" is a great book for young readers, I would suggest from 14 years onwards. There are quite some violent scenes in it and Deka surely suffers from a PTSD. But the book shows that you can achieve anything if you just believe in yourself. A wonderful message, not only for girls.