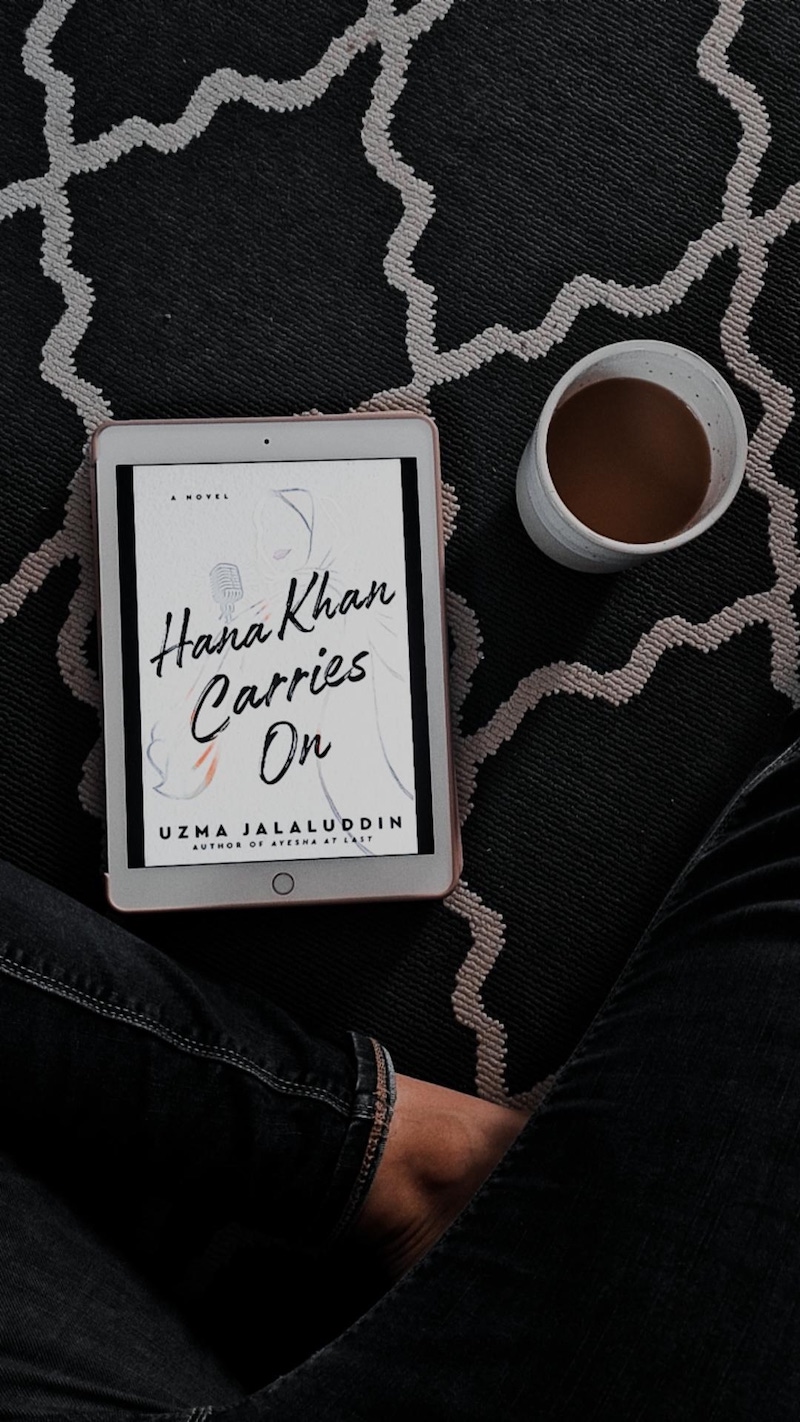 Review "Hana Khan carries on" from Uzma Jalaluddin
*unpaid ad, thanks for the free book PRH International
What is "Hana Khan carries on" all about?
Sales are slow at Three Sisters Biryani Poutine, the only halal restaurant in the close-knit Golden Crescent neighborhood of Toronto. Hana waitresses there part time, but what she really wants is to tell stories on the radio. If she can just outshine her fellow intern at the city radio station, she may have a chance at landing a job. In the meantime, Hana pours her thoughts and dreams into a podcast, where she forms a lively relationship with one of her listeners. But soon she'll need all the support she can get: a new competing restaurant, a more upscale halal place, is about to open in the Golden Crescent, threatening her mother's restaurant.

When her mysterious aunt and her teenage cousin arrive from India for a surprise visit, they draw Hana into a long-buried family secret. A hate-motivated attack on their neighborhood complicates the situation further, as does Hana's growing attraction for Aydin, the young owner of the rival restaurant–who might not be a complete stranger after all.

As life on the Golden Crescent unravels, Hana must learn to use her voice, draw on the strength of her community and decide what her future should be. (Blurb: Penguin Random House)
My personal opinion
What I really liked about the setting was the diverse cast in the book and with Hana's best friends Lily und Yusuf, there was also a couple with mixed roots included.
I loved the idea of reading a contemporary adaption of "You've got mail". Besides some comments of Hana's cousin Rashid, there were not so many funny scenes as aspected. It is a book dealing with serious topics, like finding your own path in life, deal with obstacles and with racism. Hana Khan, a young woman, has not yet found her place in life. She only knows that she is a born storyteller and wants to broadcast. But presenting a show that she is not 1000 percent convinced of? This decision is pretty tough for her. In terms of finding yourself, it was a wonderful story and I hoped for Hana to go chase for her dreams.
Even though Hana lives in Canada, she lives between two cultures. Living at her parents home with 24, might not be typical western and also not leaving your own room to uninvited relatives. But Hana does not complain. For me, it was very interesting to see how she tried to live her cultural habits and values in Canada. Her favorite dish "Boryani Poutine" is a mixture of two different regional dishes- and a bit like Hana herself.
The love story in "Hana Khan carries on"
Gosh, to be honest, I loved the part about finding your own voice, but something I could not really relate to was the love story. Don't get me wrong, not every romcom has to be steamy hot and sexy, but I hoped for a kiss! In this case, I was disappointed.
Also, somehow I always saw Aydin as a spoiled rich boy, clinging to his super-rich father and I did not understand what Hana sees in him. But that's just my perception and yes, I liked him more at the end, but I won't spoiler here.
What I really love about this book
Even though I was sometimes wondering why someone was behaving this way or another, I think it is fantastic not to have an average white hero girl with blonde hair and a barbie figure here. Starring a muslim Indian girl and her feelings about growing up and living in Toronto, as a second-generation immigrant, is wonderful! You get to know Hana's perspective and how she adjusts her crown / hijab after falling down. She is a brave girl and more diverse women should be represented in modern romcoms.